With the goal of being the most attentive service provider in the world, we continue on our course of growth as a company that prides itself on considering the needs of others and bringing people joy.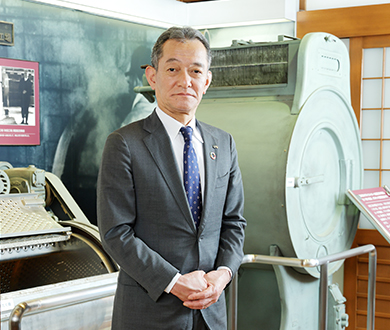 Leading the way in creating clean and healthy environments
In light of the coronavirus pandemic that began last year, we have devised a framework for creating clean and healthy environments on a daily basis on all fronts. We have announced a major policy shift, from a cleaning company to one that creates clean and healthy environments. By letting potential customers know that Duskin's products and services are there to help them create clean and healthy environments, it is our hope that we will reach a different customer base than before. Demand for creating healthy environments has been greatly stimulated by the coronavirus pandemic, such that even younger generations have become more sensitive to hygiene and cleanliness. For this potential new audience, instead of cleaning services, we offer to help maintain a clean and hygienic living environment, working together with the customer. To achieve our goals in this regard, we contract with third-party institutions in order to guarantee antibacterial and antiviral properties of our products. Also, we plan to generate new growth opportunities by way of joint development with research institutes and universities that can help us to further enhance the hygienic attributes of our products, as well as investment in venture companies.
As for overseas development, we have broadened our pest control services in Taiwan with a view to maintaining a growth path. In China, we are moving ahead with cleaning businesses other than dust control. Our services have earned a reputation for high quality compared to other companies. These factors, along with the fact that Japan's hygiene standards are trusted in the Asia region, we believe that there are possibilities for expanding on our brand — Duskin as a leader in hygiene, health and cleanliness — in other countries as well as in Japan.
As for the Food Group, in addition to initiatives to increase takeout demand at Mister Donut shops, we have also implemented online ordering services as a contactless sales method. Because the Food Group had terminated an unprofitable business during the previous year, we will step up a review of our various businesses and optimize our business portfolio in order to focus investment on strategic businesses.
Division of labor between information dissemination and distribution
Amongst measures outlined in our new Medium-Term Management Policy, a particularly important one is restructuring information dissemination and distribution of products by way of digital transformation strategy. While franchise operation is considered a Duskin strength, for some customers, there was a delay in our collecting information about the products they use or they were not informed about the products and services. To resolve this issue, while sharing customer information between the franchisor and franchisees, we have changed our system such that Duskin headquarters is responsible for dissemination of information on products and services, while it is primarily our franchisees that distribute products. Through this division of labor, Duskin headquarters is able to directly assess customer needs and solve any issues.
Regardless of these changes, the management philosophy of our founder, which was to sow the seeds of joy amongst people and the greater society, remains unchanged. Indeed we are implementing various types of reform in response to the changing times for the very purpose of fulfilling our role as a company that continues to grow and serve the public.
Doing our part for decarbonization
With a view to going carbon neutral by 2050, the Japanese government has set a goal of a 46% reduction of CO2 emissions in 2013 by 2030 — an indication of a greater focus on corporate decarbonization. Our business is based on a recycling business model where rental mops and mats are washed and reused. As we continue to bolster our ESG initiatives, we boost corporate value, which in turn leads to business growth.
One environmental initiative that we are considering is to replace the numerous vehicles used for rentals, sales and technical services around the country with electric vehicles. In addition, by optimizing delivery routes, one approach may be to reduce the number of vehicles deployed while maintaining sales. In order to gain understanding from our franchisees, these initiatives must be implemented gradually, but meanwhile we need to establish key performance indicators (KPIs) as we gradually make the shift.
Human resource development by taking up challenges
A long-term initiative to address the "S" in the "ESGs" — which refers to human resources or "social" — is to extend the re-employment age to 70 years. At present, the regular retirement age is through 60, and re-employment is an option through the age of 65. We are currently planning to change the former to 65 and the latter to age 70 over the next 10 years. In April 2021, to improve the efficiency of our operations, we launched our Shared Services Center, which integrates the administrative aspect of our businesses in one department. Along with streamlining corporate administration over the next three years, we are slated to re-organize our organizational systems.
As of next April, we will be adopting a new human resource system, under which talented employees can continue to get promoted and move into management—even skipping several ranks on merit. Due to recent trends such as double-income couples and the need for in-home care for family members, we are seeing a growing number of employees who do not want to be transferred. To meet these changing needs of the times, our plan is to build flexibility into our human resource systems and work options, and welcome a diverse array of personnel.
Our ideal employee is capable of thinking and taking action on their own. While speaking one's mind can certainly cause rifts between people, innovation does not tend to come about when everyone simply agrees. Our founder believed that fearing failure and not taking action is worse than trying hard but not succeeding. I myself have faced many circumstances where things did not go well, but because I am not afraid of failure and was determined to achieve my goals, I chalked these failures up to experience, simply deciding that a particular method did not work. I would then apply what I learned to the next challenge.
Over the course of the 58 years since Duskin was established, we have been engaged in approximately 200 business projects, only about 14 of which have continued through the present time. When broken down into percentages, this is merely 5% to 10%. Conversely, this amounts to a 90%-plus failure rate yielding our current success, which is the reason we believe trial and error helps employees to develop.
Decision-making for the public good
Lastly, on governance, we revised our Operating Officer System three years ago, at which time we added a system where we hold strategic deliberations on different themes each time to the customary decision-making process by the Board of Directors. Dynamic deliberations have ensued, due in large part to the role of Outside Directors in these meetings. At present, we have three Outside Directors, each from different fields, two of whom are women, and our plan is to continue with this format in the future. We also have our Outside Directors share other roles besides the Board meeting, including product development meeting, information system meetings and the Quality Assurance & Environment Committee. Our Outside Directors have even come to my office, at which time I have had the opportunity to hear their very important opinions as business managers.
Japan's revised Corporate Governance Code was enacted this year. The code has become stricter as more demands are made of corporate governance. Our mission as a stock market-listed company is to implement reform in accordance with our governance code, along with full disclosure. In order to be able to continuously implement transparent management, it is critical that employees are more concerned with serving society than with the benefit of the company. We believe that a company must in essence be a group of people that can decide whether or not a set of policies benefits the public or not.
The strength of our franchise chain lies in the fact that we have developed a solid relationship of trust between the franchisor and franchisees rooted in our corporate philosophy. One key role of our company is to protect our franchisees in the event of extraordinary circumstances. In this connection, in the spring of 2020, when the impact of the coronavirus pandemic became apparent, we gave relief money not only to our franchise owners but also to our Mister Donut employees, including part-time workers. The money was distributed to the recipients extremely quickly, and we received many words of thanks from our people working on-site. It is precisely because of the close relationship between Duskin headquarters and our franchisees, which share the philosophy of sowing the seeds of joy, that we were able to act promptly and precisely under these circumstances.
Our corporate philosophy of Prayerful Management perfectly fits the modern term "creating shared value" (CSV). This idea is also akin to the old-fashioned idea that if all is good with the seller, buyer and the public, then all is right on the "three sides." Our company adds a fourth — the party that delivers our products and services — the franchisees. This is why we talk about "good on all four sides." At this juncture 58 years since our founding, we have a renewed sense of the fact that our company is built on a relationship of trust with our franchisees. Our franchisees have at this point in time changed hands two or three times, some within families, yet due to our solid management philosophy, the franchisor and franchisees continue to work together to carry out our destiny as a franchise.
Our new Medium-Term Management Policy is the final phase of our long-term strategy ONE DUSKIN, and we are at the point where we can now foresee the future after the strategy. Over the next three years, in accordance with the four themes of: (1) expanding existing businesses, (2) investment in new growth opportunities, (3) implementing structural reform and establishing a solid foundation and (4) coexistence with local communities, we are working to engender a multiplier effect between economic, social and environmental value as we step up our business base. The ultimate goal is to achieve sustainable growth. Although we have yet to foresee the end of the coronavirus pandemic, we at Duskin pledge to work with the localities in which we operate for not only coexistence but co-prosperity, and to help resolve economic, social and environmental issues through our safe, reliable and sustainable product and service lines. By way of this variety of means, we are dedicated to achieving a happier, more affluent life for all of our stakeholders. We deeply appreciate all of your collaboration and support for our Group, now and in the future.
Teruji Yamamura
Representative Director and Chairman
Duskin Co., Ltd.